Bethpage Post Office
From Central Park Historical Society Encyclopedia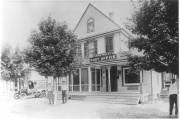 Jeremiah T. Weaver was the first postmaster for the village - January 29, 1857 - operating out of his home on the corner of Central Avenue and Seaman Avenue at a salary of $8.00 a year. Receipts for the year were $14.00. On March 1, 1867 the post office was named Central Park. (Information from "Harking Back" Page 47-48)
Mr. A. Benkert ran a livery stable, general store, and post office for many years. In 1898 Mr. Sengstacken rented this facility from Mr. Benkert. (Information from "Harking Back" Pages 58-59)
The post office pictured was the Central Park Post Office in 1914. It was the postmaster's home and post office located on east side of Broadway south of the railroad tracks.
Before the post office implemented home deliveries the people of Bethpage picked up their mail at the post office located on the south west corner of Broadway and Baldwin Place. In 1949, "at home" deliveries began, and mail was delivered twice daily. Robert Shackleton and Louis Podeswa were the first letter carriers at a yearly salary of $2500.00. By 1950, the post office was forced to limit mail deliveries to once daily.
In 1977, the post office was renovated, expanding window service and the box section to provide customers with better service. Bethpage was assigned the zip code number 11714.
The United States Government leased the Post Office building on Central Avenue from Dan Kellner who constructed the building in 1953. The District serviced about 3,500 homes in the l950's; there are over 7,000 homes today (2000).
The new post office is located on Hicksville Road
Below information from the CPHS NEWSLETTER - July 1998
Construction of the new post office on Hicksville Road will begin in the fall and be opened by the end of 1998 or 1999. The need for a traffic light in front of the post office. A petition is being circulated around the community to address the need for a post office annex in our down town area. (The annex was never realized).
November 11, 2003 - The Bethpage Post Office honored Brian Hickey (Killed in WTC 9/11) by an act of Congress, Public Law 108-117.
Below Information from the Bethpage Tribune - January 29 - February 4, 2010
Bethpage Post Office earns Postal Service's 5 Star Customer Service Award. Ratings are based on surveys by the Gallup Organization.
This page was last modified on 26 January 2015, at 02:10.
This page has been accessed 13,933 times.