Farmer's Market
From Central Park Historical Society Encyclopedia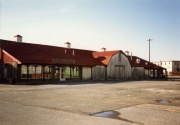 The Nassau Farmer's Market opened in l954 on Hicksville Road on the present site of Waldbaums, Hicksville Road. The 600 foot long shed-like building had 400 stalls selling everything from produce to clothing and furniture. The merry-go-round was a big attraction for the children as was a small movie theater. Fond memories still remain among the residents who remember the fresh vegetables, fruit, and bread on Friday and Saturday mornings, and the delicious pork and sausage from Mr. Sausage. One could purchase clothing, houseware, hardware, fabric, toys, pickles etc. open on Friday and Saturdays. Strolling the stalls in the evening became a night out for the family. Unfortunately, a suspicious fire destroyed the entire market in l987. A shopping mall was proposed and built the following year.
Submitted by Ruth Affen
Shopping Mall, Waldbaums, was demolished and Lowes was built on this site. Grand opening in fall of 2008.
This page was last modified on 20 December 2013, at 17:22.
This page has been accessed 2,787 times.