LOGO, Legend of
From Central Park Historical Society Encyclopedia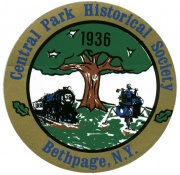 The Central Park Historical Society of Bethpage was chartered as a non-profit educational organization by the New York State Education Department in January, 1990. The Society sought a logo which would depicit the history of Bethpage at a glance. THE NAME CIRCLE - The outer circle of the logo traces the name of our hamlet. Central Park was the name given by land developers in 1867 to this part of the Bethpage Purchase, previously known as the Jerusalem Station. In absence of rail lines on the north and south side of the Island, our hamlet, located in the central part of the island serviced surrounding communities among them Jerusalem as Wantagh was known. The developers felt that this area should be identified independently and not be considered an extension of Jerusalem. Progressing along the name circle, one approaches the present name of our community, Bethpage, which was renamed in 1936 as noted on the tree. The tree allows us to perceive how deeply religious the early settlers of the Bethpage Purchase were. It is symbolic of a fig tree located in the Biblical town of Bethpage located on the Mount of Olives as related in the Gospels according to Matthew, Mark, and Luke.
THE FRONTIER CIRCLE - Engine 39, the last steam locomotive to pass through Bethpage, symbolizes the importance of the LIRR to Bethpage which at one time was a frontier in the eastwood movement of people on Long Island. It enabled early residents to work in the city and raise their families in this park-like hamlet. The Lunar Expedition Module (LEM) designed and constructed by the Grumman Aerospace Cooperation of Bethpage established a new frontier for Bethpage. Just as the railroad reached eastwood in the 1880's, the LEM reached for the moon in the 1990's acheiving a "giant step" for mankind. As summarized by Daniel Schiavetta, the first President of the Central Park Historical Society of Bethpage, "No place in the world is there a country or village which can claim the only structure on the moon but Bethpage."
This page was last modified on 20 December 2013, at 19:31.
This page has been accessed 2,445 times.