Mazzara, Gene
From Central Park Historical Society Encyclopedia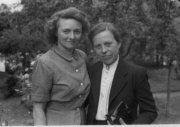 Fraulein Fortsch, a native and resident of Bamberg was a sister of Fortsch Brothers (Fritz and George) who operated a butcher shop in Bethpage. Their home was on Kearney Avenue.
Eugenia "Gene" Mazzara the wife of Lt. Buddy Mazzara serving in Army of Occupation.
Gene passed away on March 1, 2021 at the grand age of 100. It was noted at this time of the many ways Gene gave back to the community she lived in. She was supportive and worked with her late husband, Buddy, in their insurance agency; she had the responsibility of being a Trustee Emeritus of Family and Children's Association of Bethpage; and an active member of Archie McCord Post #86 Ladies Auxiliary, Central Park Historical Society. Gene was the beloved wife, for 51 years, to the late Buddy - devoted mother of Dr. Mary Alice Mazzara and Robert Mazzara. A very special lady to all who knew her.
This page was last modified on 5 March 2021, at 02:54.
This page has been accessed 2,788 times.